May & Raeburn and the UK Grocery Market
We have over 60 years' experience helping ambitious brands develop business in the UK retail market. We're much more than a distributor – through our comprehensive, insight-driven service, we partner with you to understand your consumers and then identify and capitalise on opportunities in your category.
Importantly, we only work with a select client base that offers quality products. This allows us to gain a deep understanding of your brand and your customers, and provide a tailored service that delivers effective UK sales and marketing across all channels. As a result, your brand achieves short-term success and sustainable, long-term growth.
Established in 1954 May & Raeburn has grown from representing manufacturers within East Anglia into a dynamic National Sales and Marketing Company, providing a comprehensive range of services to all sectors of the Grocery and Allied Trades. Now recognised throughout the industry as a reliable and effective sales organisation, we offer a highly flexible package with economies of operation based on years of experience. You can only benefit from talking to us.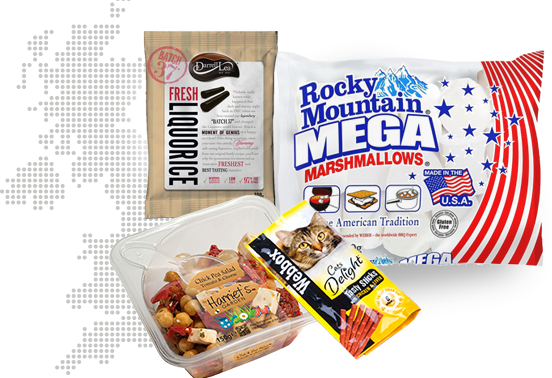 The key facts and figures
£100M+ Turnover at retail
What our clients say
"The UK is fast becoming one of the most difficult markets for an international brand to navigate. With retailers fixated on low prices, success with a premium imported brand requires an exceptional in market partner.

May & Raeburn have proven to be this partner and have helped Darrell Lea navigate a very difficult period. Across a wide range of channels the team have shown expertise, smart decision making and the ability to sell a brand where pricepoint was not the USP. Highly recommend."

Jason, Darrell Lea

"We have been working with May & Raeburn for over 10 years and they have transformed the UK market for us from afterthought to one of our leading export markets. The M&R team has been able to place laser focus on our brand identifying large volume opportunities that we had never imagined.

Most heartening is that as our business has evolved, M&R has taken the time to truly understand our products and give our brand its own "voice." As a result, our product range and customer base is ever evolving and diversifying giving us confidence that our brand will be a fixture in the UK for many years to come."

Karl Brown, Rocky Mountain Marshmallows

From helping us adjust our line to better suit the UK market to the advice given on import and inventory management, Tony and his team set us up for total success. Thanks to M& R, our products - within a very short time - were on the shelves of the main multiples and specialty stores.

Their professionalism and expertise in marketing and sales helped us establish ourselves as category leaders in the UK. Besides helping us achieve and surpass our goals, M & R always prioritized the principles of honesty and loyalty when dealing with us. It is because of this that we were able to work seamlessly and with great success"

Isaac Mendal, Select Pet Products

We appointed M&R after an exhaustive distributor search & are delighted with our choice. M&R, and Vic in particular, have exceeded our expectations, delivering impressive distribution gains & consistently hitting sales targets. Tony & Vic understand our business & treat it as if it were their own. Their collaborative & flexible approach suits our way of working & we truly see M&R as an extension of our own management team. We appreciate the dedication & drive given to our brand & look forward to a long & successful partnership.

Rob McNeilly, Head of Europe, Morinag & Co. Ltd
Listed supplier to